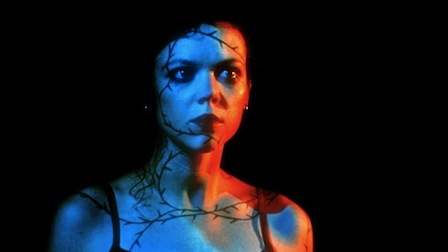 Remember the iconic 1970s film Carrie? What if it was the 1990s instead? But her name is Rachel. All of the key points are there, plus 1990s visual effects. So… unsurprisingly terrible. So much of it is the same, you think, why bother? The same crazy, religious mom motif (but she's institutionalised). The same sympathetic teacher role (Amy Irving reprising her role as Sue Snell). The same mean cheerleaders. The same fiery telekinetic revenge sequence. The same jump scare trick ending. They even use footage from the original, just in case you forgot (in a way both distracting and nonsensical).
The changes they made are largely cosmetic (super unflattering 1990s fashion) or clumsy plot choices. I will say, I was impressed that one of the popular girls had glasses and was still somehow considered… hot!?! (GASP) Also, in Carrie 2 she's an outsider by choice rather than circumstance, a cool, slightly gothy indie chick with a tattoo and everything. Unlike hapless Carrie, she even has a friend, Lisa (Mena Suvari), whose death sets up the whole telekinetic crisis.
The visual effects, as mentioned, are terrible, but not even in a fun way (except maybe when a guy takes a harpoon to the crotch). Somehow she uses telekinesis to make her tattoo grow; visually kind of neat, but makes zero sense. There are also awkward black and white sequences whose purposes are ambiguous; sometimes it's a dream, sometimes just for emphasis, I guess?
It is interesting to note that they took the female-centric story from the original and replaced it with a story about boys. They even made sure that our telekinetic protagonist, Rachel, is secretly the daughter of the same man as Carrie, because "it's carried on the male line". The original was interesting specifically because of the way girls were portrayed: cruel as they are beautiful; this time around it is instead about a pact between football dude bros to have sex with every girl in the school (but don't worry, also #notallmen because the one football player is a decent guy in with a bad crowd).
So why does this exist? Even the name makes no sense and seems like a jaded marketing move. The trappings from the original are clunky and forced. It is an artifact of its era in fashion and slang, which is usually at least interesting, but where Carrie 2 just rehashes one movie something like The Craft (1996) put a new spin on an old concept . It's available for free on Tubi, but it probably isn't worth the time unless you need something in the background while paying bills… dusting… something like that.
Incidentally, the Wikipedia page is so poorly written it is entertaining (possibly more than the film). Someone misused the word "behest" (probably to sound cool) as well as many other peculiar syntax and word choices.